Get accurate data and scale your ecommerce revenue
fast with certainty

.

Ecomtrack allows you to track ads revenue with accuracy so you can scale your store faster.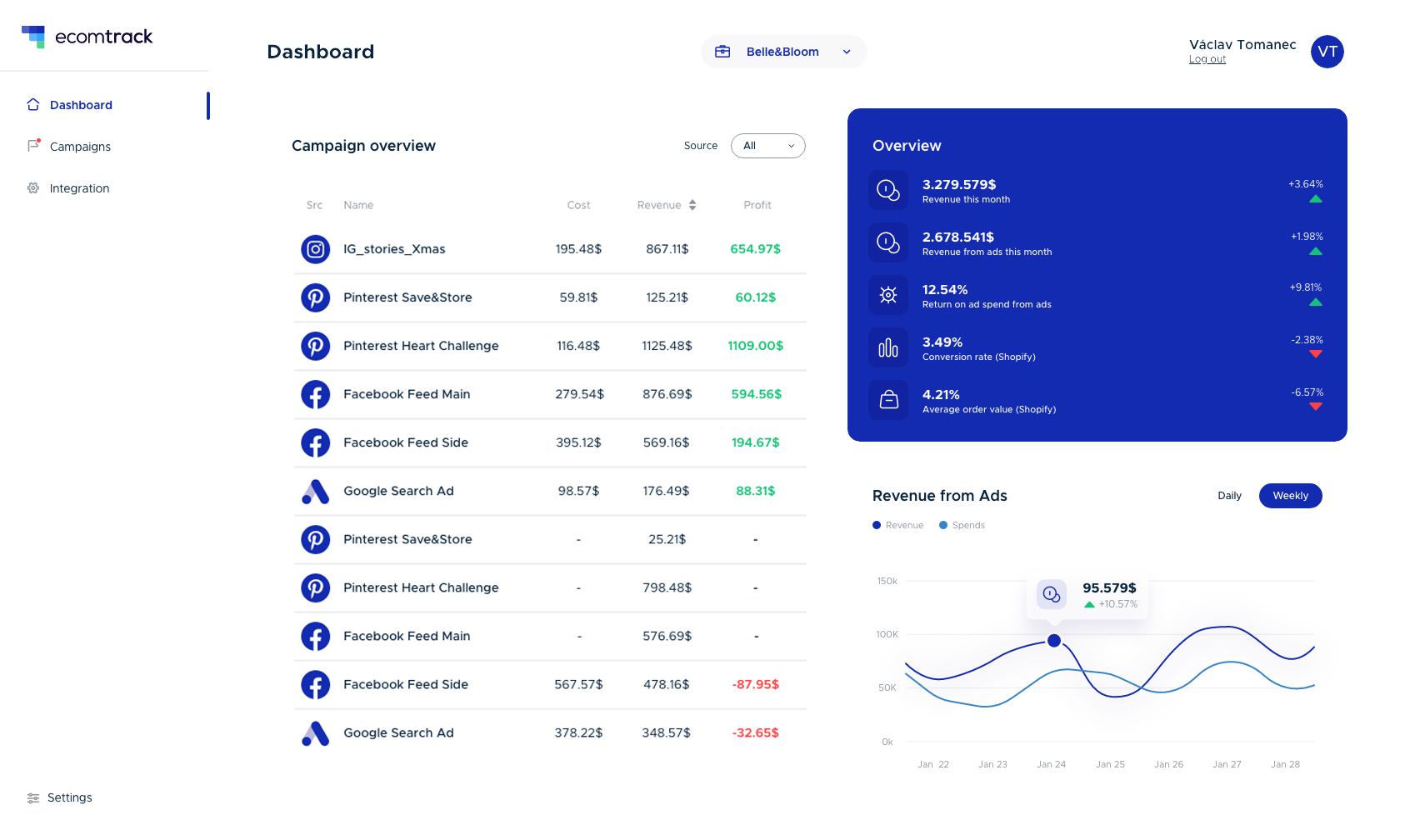 Dashboard
Campaigns
Integration
Workspace setup
Src
Name
ROAS
ROAS Ads
Revenue
Revenue Ads
IG_stories_Xmas
3.89
2.56
$876.24
$1 092.24
Pinterest Save&Store
1.85
0.89
$867.11
$649.28
Pinterest Heart Challenge
2.34
1.89
$125.21
$298.35
Organic traffic
2.23
1.72
$1125.48
$962.48
COLD: End of Summer Sale
1.78
1.32
$569.17
$726.16
Retargeting visitors
2.01
2.09
$179.29
$302.47
Pinterest Save&Store
0.02
0.13
$20.02
$12.67
Pinterest Heart Challenge
0.49
0.44
$235.12
$178.96
BOF: 14D Abandoned Carts
1.05
1.39
$364.12
$229.46
TOF: US only
2.31
2.19
$705.07
$769.24
Google Shopping
1.48
2.11
$923.68
$883.46
TOF: US + Canada
1.38
1.45
$197.97
$184.76
$130 795,8Revenue
14.2%
1 283Number of orders
10.2%
$102,29Average order value
2.11%
$15 845,9Total spend
3.11%
$98 276,8Revenue from ads
11.05%
Jul 22
Jul 23
Jul 24
Jul 25
Jul 26
Jul 27
Jul 28
Trusted by
100+ clients

all over the world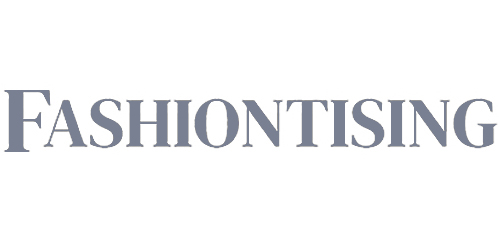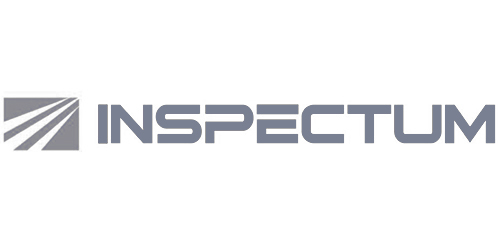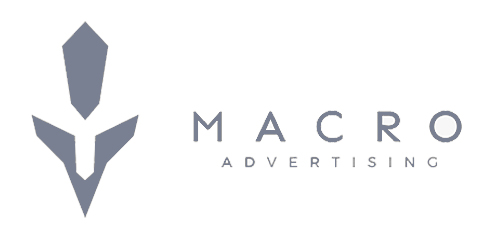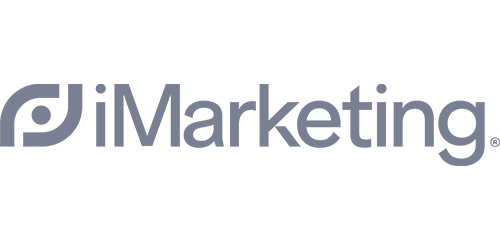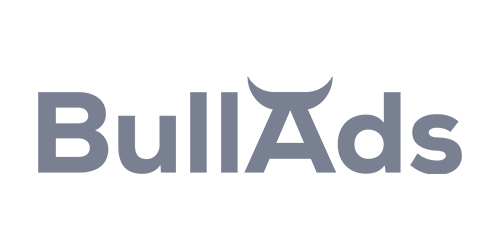 Scale your online store
Really accurate tracking
Since iOS 14 update, getting accurate data became extremely challenging. But, we have solution for it! Our customers are getting 100% sales attributed back to the correct ad so they can scale their online store fast with certainty.
scale the highest performing ads only
turn off quickly unprofitable ads
get the truth of what is really working
Learn more
Start tracking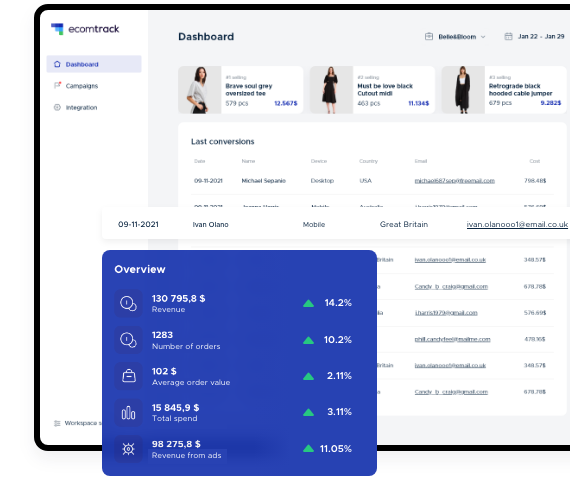 Key benefits of
ecomtrack
01
Attribute 100% of your sales to the correct ad
Say good-bye to Facebook's misattribution, over-reporting, or under-reporting with our server to server connection.
02
Scale with certainty
With accurate data, you can finally scale the performing ads with confidence and turn off any ads that are not profitable. As a result, ecomtrack's clients grow their businesses faster and more profitably.
03
Customisable attribution models
With us you have freedom to choose the attribution model that suits your business the most. From 7-day, 14-day, 28-day attribution window to "last click" attribution model.
04
Easy & fast integration
ecomtrack offers a seamless integration with Shopify, WooCommerce, or we can custom-integrate any platform your business uses.
Choose the attribution model yourself
Freedom to choose the attribution window.
The attribution window was shorten from 28 days to just 7, making it difficult especially for higher AOV stores, to evaluate results and make the best decisions.
Choose what works the best for you
We don't want to put any limits on scaling your business so you can choose attribution model that works best for you.
7-day attribution window
14-day attribution window
28-day attribution window
last click attribution window
Select what you prefer
According to your business model you may choose the best to get correct data.
Attribution window
7 days
14 days
28 days
Last click
Cope with all
Supporting the most used platforms
Currently we support a seamless integration with these platforms. Shopify, WooCommerce, MyCashflow and Shoptet. Also we support advertising platforms Facebook and Google Ads. Are you missing your platform in the list? Let us know!
See implementation
Rocket fast start
Easy to set up and use. See accurate data within hours!
Just copy&paste solution, that starts working immediately, once the code is inside your website.
Takes less than 5 minutes
No advanced coding skills
Accurate data within days
Learn more
See implementation
User roles.
Cooperate efficiently with your team.
We've made it super easy for you to invite your team members so you can all collaborate together. For agencies, you can invite your clients and manage all of them in one place.
You can manage all clients in one place.
Share access with your team members.
Choose different roles for your team
Calculate price
Start tracking